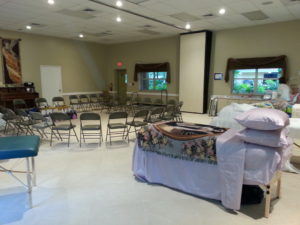 "Thank you for a very relaxing, and spiritual healing evening. I enjoyed your meditations and your genuine compassion for our well-being. I look forward to spending many more evenings with you, David and the rest of the community healers."  Chantal J.
"I cannot tell you how wonderful your program was earlier this month. Please know how much we appreciate you sharing your beautiful gift.' Richard K
You are invited to join NFSH- The Healing Trust for an evening of Energy Healing Therapy! Every month our Student Members and Healer Members volunteer their time to work with guests in our community.
NOTE: Due to the pandemic, the all  community healing sessions take place via Zoom. 
2021 Dates:    
January 22, February 26, March26, April 30, May 28, June 25, July 30, August 27, September 24, October 29, November 26, and December 17, 2021
.
Time:  6:30 PM to 8:30 PM. Please arrive and register by 6:15 pm. Zoom link will be open at 6:00
Cost:  Suggested Love Offering: $10. The Love Offering can be paid through www.PayPal.com. Go directly to www.paypal.com. Pay to ksmith727@comcast.net. Or you may send a check to Karen Coratelli-Smith-Smith, 11921 Heather Woods Court, Naples, FL, 34120
Location:
Join Zoom Meeting at 6:15 – 6:20 pm to get connected!  You'll get the zoom link when you register!
To RSVP:  Contact Rev. Karen Coratelli-Smith, Licensed Healer Member and Tutor, NFSH-The Healing Trust by calling 239-692-9120 or email:  ksmith727@comcast.net
"I'm just writing to you to say thank you for the opportunity of participating in the Healing session. I felt profoundly in peace and emotionally healed during the session. The message from the Divine was of Trust (the process) and the opportunity to say to myself All is well." Claudia M., Naples, FL
"This is the FIRST group encounter where I have been able to feel open, vulnerable, and accepting of the entire experience. There is a genuineness, sincerity of purpose in which I can bring forth my best self. By experiencing this circle, you will  have a deep sense of gratitude." Ed L., Naples, FL